First global environmental observation from the Japanese Experiment Module, KIBO
The Superconducting Submillimeter-Wave Limb-Emission Sounder (SMILES) is an atmospheric observation sensor of unprecedented high sensitivity with superconducting technology. SMILES is the first instrument to observe the global environment in the Japanese Experiment Module "KIBO" onboard the International Space Station (ISS).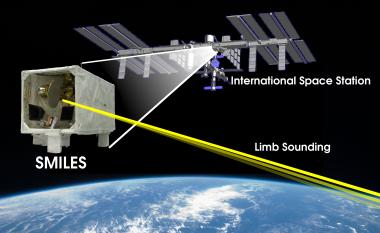 SMILES and international space station

The atmosphere protects Earth
Highly sensitive data obtained through SMILES observation opens a new issue of atmosphere that protects the earth, the home of humankind. It contributes to global environmental diagnosis. SMILES was jointly developed by the National Institute of Information and Communication Technology (NICT) and the Japan Aerospace Exploration Agency (JAXA).

---
2014/07/24

The new version of SMILES observation data is made accesible to the public. (Data browse)

2013/07/26

A SMILES Technical article is published in the SPIE Newsroom. (View the article)

2012/03/05

The SMILES Level 2 Research product is released to collaborative researchers. (Information on registration and downloading the data)

2012/03/05

The SMILES observation data is opened to public. (Press Release)
(Data browse)

2011/01/19

The observation phase of SMILES terminated. The conclusion of the failure investigation about submillimeter-wave local oscillator was reported. (more)

2010/11/18

The review for 1) the quality of NICT research products, and 2) the computer data system were performed. The NICT research products were authorized.

2010/05/12

The cause of the discontinuance of the SMILES observation at 08:59:55 of 21th April 2010 (UT) was identified as a failure of submillimeter-wave local oscillator. (more)
---